Mare-Bizoton, Morne L'hopital, Port-au-Prince, Haiti – 24, May 2017
Pastor Lisson of the Cross to Light church plant on "Hospital Mountain", a village in the mountains of Port-au-Prince, Haiti, received a medical day clinic mission team from Calvary Chapel South Los Angeles, Refuge church in Northern California and Calvary Chapel Los Alamitos today.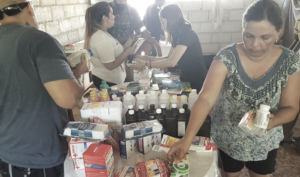 The team was equipped with a few medical professionals and triage medical supplies.  They treated the people of the village who otherwise would never be able to receive medical attention or medicine.  The rest of the team assisted, shared the gospel and the love of God and prayed with people. Everyone who came received a personal appointment with our Great Physician.
Pastor Lisson's church is located in a traditionally and historically voodoo village.  His church is the only bible teaching church in the area.  He holds several services a week conducting a worship and bible teaching service to the congregation.
He asks our prayers for him and his church leadership team to be filled with the Holy Spirit so that they can be good and faithful servants to the people of the church and the community.