Cite Soleil, Haiti –
Ysrael, pastor of Cite Soleil in Haiti, was taking a tap-tap ride with his eleven-year-old son, Sebastien. A tap-tap is similar to a taxi except for being a truck that has benches on each side in the back for people to sit on. It's covered and usually packed with riders.
The two were sandwiched between many others. Suddenly, they heard gunfire. Someone on the street open fired on the tap-tap and shot and killed two men sitting next to them. A bullet ripped through Sebastien's hand.
Ysrael took him to the hospital. The doctor looked at the gunshot wound and couldn't find any broken bones. He said to give it a couple of days to see if there would be any permanent damage.
Ysrael took his son home, praying for God to heal him. The loss of some or all use of a hand would be devastating. In Haiti, surgery to fix this is almost non-existent. Getting a visa to go to the United States for a medical procedure is usually not granted.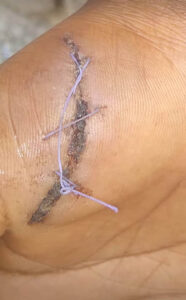 A few days later, father and son went back to the doctor. They looked at the hand and tested functionality. The doctor detected no long-term damage. It appeared as though, despite a bullet wound, his hand was healing 100%.
Several weeks later, Sebastien's hand continues to heal. We praise God for His healing and protection, both for this young boy's hand and for their lives.
God is our refuge and strength, a very present help in trouble. Psalm 46