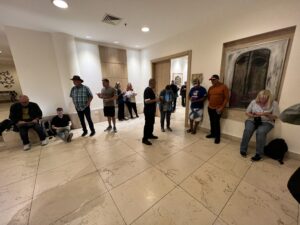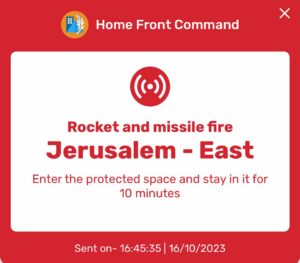 Our last day in Israel included a 30-second run to the safe room of the hotel. When the Israel bomb siren goes off, you have 30 seconds to reach the bomb shelter. It was not crowded since we were the only tour group in our hotel. The only other people we saw in the hotel were reporters.
Thankfully, the threat was disarmed, and no bomb reached the ground. Israel has the "Iron Dome". It's missile diversion technology that usually works effectively.
We are so thankful for this trip. Everything about it was unexpected. Israel declared war the day we departed the United States. He unfolded endless ministry opportunities. Everywhere we went, there were divine appointments.
Our hotel in Southern Israel at the Dead Sea "just so happened" to be the one that opened its doors to all of the refugee survivors from the Hamas Gaza attacks. The horrific events shared by the refugees are heartbreaking.
One mother shared how she had just lost her 10-year-old son and the rest of the village.
Another couple recounted how they had been hiding in a safe room for 20 hours. Their Kibbutz village was attacked by the Hamas terrorists. They could hear screams, shooting, and death. The terrorists came to the door of their safe room and knocked. They pretended to be IDF Israeli soldiers there to help and rescue them. They said, "We're the IDF here to rescue you. It's safe now, you can come out." The wife shared that they had a feeling it wasn't Israeli soldiers and did not open the door. If they had, they would have died.
The husband realized that the door to their safe room wouldn't lock. He stood holding the door shut for most of the 20 hours they were there hiding. A few times a terrorist would try to open it. He had to hold it with all of his strength. Every single person that lived in that village was killed except for them.
We prayed with this couple. Hugged them. Told them that God loves them and He protected them. They agreed and were saddened for the great loss and thankful to be alive.
Our team played worship music in the hotel lobby for hours until about 12am. Many Jewish people listened. The sound was so calming. Emily from our team shared the gospel with a young lady with a translation app on her phone. The girl was so interested in learning about Yeshua. She left filled with hope and a new light on her face instead of despair.
Our group toured En Gedi where David used to spend a lot of time. There was only one other group there. As we were leaving we met a 15 year old young man who had lost every single person in his village except for his family. This was a different village then any we had heard about before. When the terrorist entered their village they ran out of their home and into the bushes to hide. They saw the terrorist bomb and set fire to all of the houses.
This young man was astonished that we were there in Israel. We explained that we were there because God loves Israel, loves him and we wanted to be there to support them. He couldn't believe it. As we left his whole countenance was filled with excitement and hope.
There are many more stories like this that happened throughout our time in Israel.
But as for you, you meant evil against me; but God meant it for good, in order to bring it about as it is this day, to save many people alive. Genesis 50:20