Primary Objectives of the Missionary Training Center
Missionary Base
Church Plant Support Base
Cross to Light Kids Camp
Bible Teaching; conferences, VBS, etc
Medical Outreach
MTC Blueprint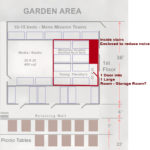 Downstairs;
Mens Mission Team Room: 10 beds

Mission Team Overflow Room: 8 beds – revised blueprint removes this room/converts to storage room

Young Timothy's Room – Interns + 10 -11 year olds: 8 beds – revised blueprint removes this room/converts to storage room

Media Studio – recording and video studio with 4 beds for interns.
Mission Team Rooms: 3 units, 12 beds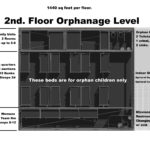 Upstairs;
Women's Mission Team Room w/ bathroom: 8 beds
This room was designed to so that women are separated from the men and are given things they really care about; a secure, private room with a bathroom and extra sink/changing room and close proximity to the younger children.  This will maximize their safety and desire to come back.
Cross to Light Kids Camp room: 12 beds
This room is for both male and female children under 10 years old.  Female overflow missionaries can sleep in with the children to give extra oversight. It is divided into three areas so ages/sexes can be divided up. This room has oversight from the 2 missionary family units that are next to it as well.
Missionary Family Units (2): each unit holds a family up to 6 and is designed for a missionary family to live in.  These two families will be in charge of overseeing the Kids, they will have a strong calling for children and could be 1 Haitian family and 1 American family.
Rooftop; rooftop access.
*The Original MTC Blueprint animation had one major flaw; the stairs.  The stairs built on the inside created three major issues; 1. Noise – inside stair traffic creates a LOT of noise.  2. Awkward living space – a living/bedroom with stairs in it creates an awkward non-private, insecure sleeping scenario.  3. Reduces square footage.  Stairs built on the inside needs design solutions for these three issues.
Kitchen & Fellowship Area