Missionary Training Center Commercial Kitchen Container Project
This container will become the MTC commercial grade kitchen and will feed the mission teams, outreach feeding events, church plant teaching events, Pastoral conferences, ladies conferences, VBS children feeding programs and the like.
MTC Kitchen Appliances Needed
Commercial Kitchen Equipment Needed in Order of Importance:
Kettle
Hood
Burner
Skillet
Kettle
Groen or Cleveland Gas Tilting Kettle w/ 5 – 12 Gallon Capacity (12 gallon is preferred)
The Groen TDB-40 electric countertop 40 quart steam jacketed kettle features greater control with a smooth action hand crank, 2/3 steam jacket, 3/8″ solid bar rim along with easy pour lip and a long lasting smooth stainless steel body that is easy to clean.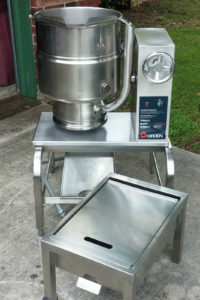 The Groen TDB-40 comes to temperature quickly, heats evenly and gently, and distributes the heat over the largest surface area so that the food does not burn or scorch. Each TDB-40 comes pre-charged with pure water and rust inhibitors at the factory to ensure a long life with minimum maintenance.
40 quart
2/3 self contained steam jacket
Hand tilt
Solid stainless welded construction
High polish finish for easy cleaning
Welded-in butterfly shape pouring lip
Thermostatically controlled
Faucet bracket is standard
Shipped as 3 phase units, but are field convertible to 1 phase
EBAY Listings
Hood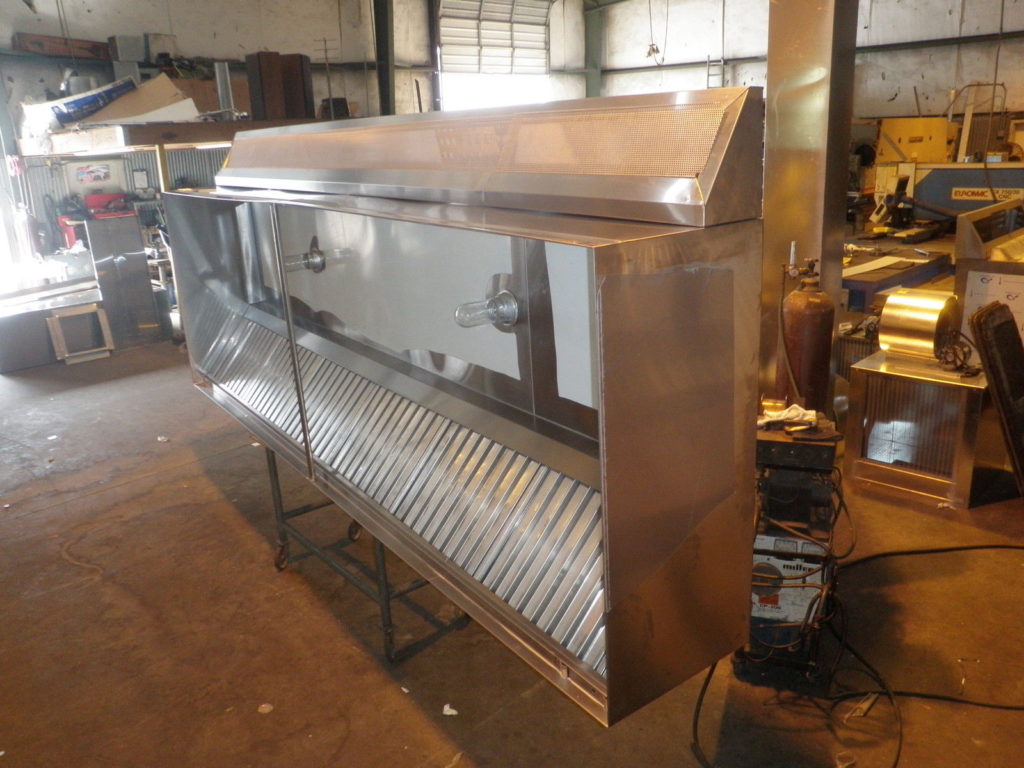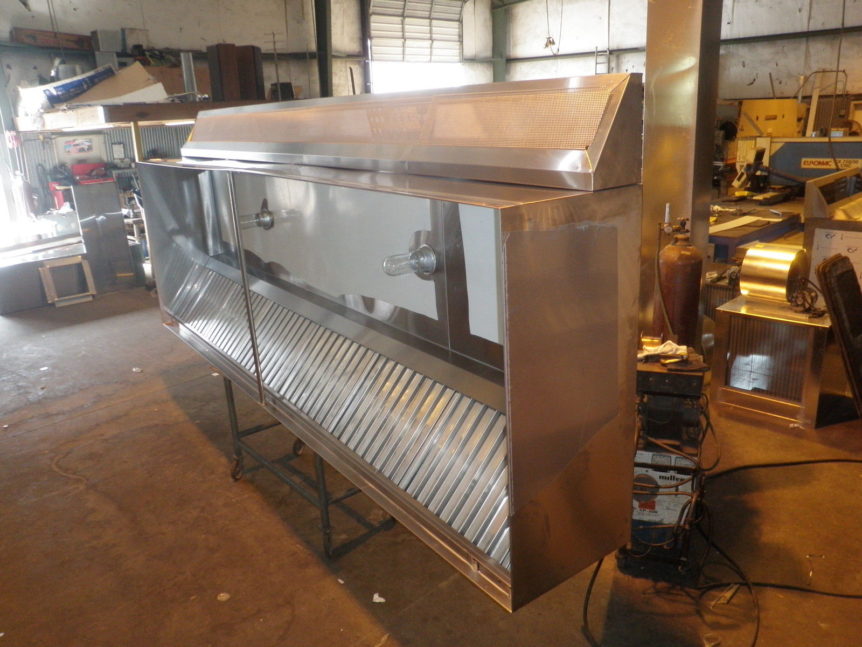 The science of commercial kitchen ventilation includes both exhausting air as well as providing replacement air within the cooking area. Whether a restaurant is a small free-standing site or a large institutional kitchen, managing and balancing airflow is a complex issue. It is a challenge to properly ventilate commercial kitchens, as they require moving large volumes of air through ductwork and equipment placement in very restricted spaces.
EBAY LISTINGS
http://www.ebay.com/itm/6-FT-TYPE-l-EXHAUST-HOOD-WITH-M-U-AIR-NEW-/371407789902?hash=item5679a11f4e  – $1,249.00
http://www.ebay.com/itm/Restaurant-Hood-with-Exhaust-Fan-6ft-Exhaust-Only-Vent-Hood-/271474548618?hash=item3f3524df8a  – US $1,799.00
http://www.ebay.com/itm/6-Concession-Trailer-Hood-System-with-Exhaust-Fan-/391228004586?hash=item5b170198ea  – $1,599.00
Burner
Supera (SPR1-1) – 18″ Gas (or propane) Single or Double Burner Stock Pot Range
(Natural gas unit that comes with a propane conversion kit)
The 18″ Gas Single Burner Stock Pot Range (SPR1-1) by Supera is the perfect size for the little-kitchen-that-could. The single burner gives you the potential for a whole new variety of food options without taking over your kitchen like a full-size range. Integrate one of these units onto your countertop and then watch the magic happen.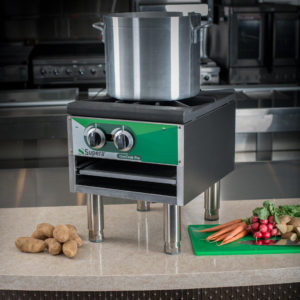 The 18″ Gas Single Burner Stock Pot has an adjustable stainless steel pilot igniter that is easily accessible from the front of the unit. The stainless steel knobs control both the inside and outside burners manually for everything you can cook up in your kitchen. The low profile height of this unit makes it very accommodating for small spaces. Did we mention the adjustable bullet feet?  Limited kitchen space, I'd like you to meet your new best friend.
COMPACT BUT COMPELLING
With its compact footprint this countertop friendly single burner is perfect for simmering, warming and sautéing in an out of the way location while freeing up valuable real estate on your full commercial range so you can focus on faster paced items that need to make it out to the dining room fast.  Any kitchen, large or small, can benefit from an extra burner for when busy is an understatement.
HEAVY DUTY DESIGN
The 18″ Gas Single Burner Stock Pot Range is built much like its larger brethren. It has a stainless steel exterior and features heavy duty cooking grates and a cast iron burner. The wide and deep burner tines are perfect for pots both large and small.  As if this stock pot range wasn't accommodating enough, this natural gas unit also comes with a propane conversion kit.
Features
Durable stainless steel exterior
Heavy duty cooking grate and cast iron burner
8" stainless steel legs with 2" adjustable bullet feet
Stainless steel pilot igniter
Requires standard 3/4" gas connection
Two Burner Stock Pot Range $819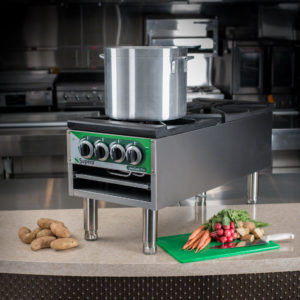 Features
– Durable stainless steel exterior
– Heavy duty cooking grate and cast iron burners
– 8" stainless steel legs with 2" adjustable bullet feet
– Stainless steel pilot igniter
– Requires standard 3/4" gas connection
Benefits
– Natural gas unit that comes with a propane conversion kit
– Full width drip pan tray is removable for ease of cleaning
– Stainless steel dual knobs control outside and inside burners
– Compact design with low profile height
– Wide and deep burner accommodates large pot sizes
Skillet
Groen BPM-30G Floor Model 30 Gal. Gas (converts to propane) Manual Tilting Skillet Braising Pan
Braising Skillets are very versatile and can be used to prepare many types of food.  The generally come in 15, 20,30, and 40 gallon sizes. The 30 gallon Sale Price: $15,227 brand new.  But you can find them used $1500 to $6000 on ebay.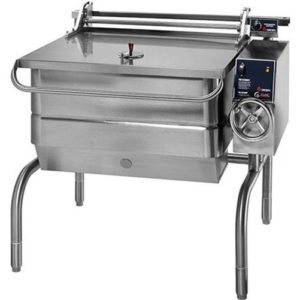 Groen braising pans are designed to make large batch cooking controllable, effective and easy to execute. A unique heat delivery system promotes even cooking and eliminates hot and cold spots.
The stainless steel cooking surface with rounded interior corners make it less work to move product around and easier to clean.
The Groen Eclipse tilting braising pan is a high-performance workhorse, which combines the cooking functions of a skillet, a steamer, and a steam jacketed kettle.
Sometimes called braiser pans or tilt skillets, these braising pans are so versatile they can braise, roast, boil, fry, grill, sauté, steam, hold and serve.